Holistic Dentist – Phoenix, AZ
Get to Know
Ranine Jaber, DMD
Dr. Jaber enjoys the creativity involved in dentistry when it comes to improving the balance and architecture of the teeth. She is deeply committed to restoring both her patients' smiles and oral health using a comprehensive vision and conservative approach. Combining a light touch with a wide variety of options leads to the best and most personalized results for each person, and she can't wait for you to experience this for yourself.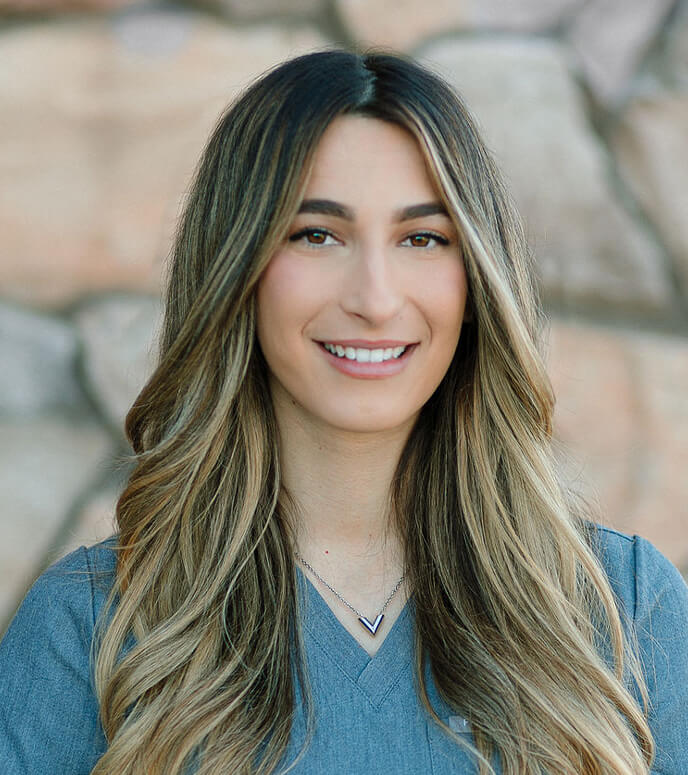 Why Did You Want to Become a Dentist?
Dr. Jaber went into undergrad knowing that she wanted to pursue dentistry after spending countless hours shadowing her childhood dentist, volunteering at dental clinics, and working in a dental laboratory. She was drawn to dentistry because it combines the precision of craftsmanship, the art of creativity, and the privilege of patient interaction with science and health.
Where Did You Study Dentistry?
Dr. Jaber began her college career at Arizona State University's Barrett Honors College, and she went on to graduate from the Midwestern University College of Dental Medicine. While in school, she was the only student to receive honors and recognition for her work in CAD/CAM dentistry. Since then, she has routinely completed continuing education courses, earning certifications in nitrous oxide sedation, laser dentistry, and the SMART (Safe Mercury Amalgam Removal Technique) Protocol.
Her effort to consistently improve her skills and knowledge is also why she is an active member of the American Dental Association, Arizona Dental Association, Academy of Laser Dentistry, International Academy of Oral Medicine and Toxicology, and Spear Education.
Outside of the Dental Office, What Do You Like to Do?
Outside of the Dental Office, What Do You Like to Do? Born and raised in Arizona, Dr. Jaber is an avid baker, and she also likes to spend her time traveling, playing tennis/pickleball, and hanging out with family. A professed coffee enthusiast, you'll often find her trying different blends at local shops.